Backyard Guide to Irrigation
IDM - Irrigation Manual
Hard Copy Ring Bound
Full Colour
60+ pages
Add $5.00 S&H for Canada 12-14 Business Days
Add $10.00 S&H for USA 12-14 Business Days
Please inquire for International Shipping Rates
View the Table of Contents
$39.97
The Backyard Guide to Irrigation manual has been designed in the hopes of providing a simple and easy to read manual for irrigating any backyard.
It's step by step process and abundance of real pictures makes it a fantastic guide for you or anyone wanting to do the project themselves.
This first half of the manual is intended to be used to help you source out all the correct information that you or the certified irrigation designer will need to design your system properly. The second part of this manual is a guide on how to properly install and maintain that irrigation system.
Agricultural Irrigation Manual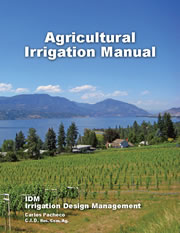 Now Available!
Hard Copy Ring Bound
Full Colour
140 + pages
Add $5.00 S&H for Canada 12-14 Business Days
Add $10.00 S&H for USA 12-14 Business Days
inquire for International Shipping Rates
View the Table of Contents
View a sample chapter of Agricultural Irrigation Manual - Chapter 4
$59.97
Author: Carlos Pacheco
Hello, my name is Carlos Pacheco C.I.D Res./Com./Ag. and I have been an irrigation designer since 1997. I have designed and managed many different projects; everything from the small back yard hobby farm to large 50 to 100 acre new vineyard installations.
Having designed, installed, and repaired irrigation systems with many different water requirements and application methods. I've had the opportunity to run into many clients who wanted to learn how the system worked, so they could do their own repairs or even build a system of their own.
I then decided to put together this manual to help the average farmer or for that matter anyone to design, install and manage their own system with the confidents of years of experience that they are able to reference in this manual. Not to mention cutting out the costs and difficulty with dealing with contractors.